Plastic reinforcement chopped carbon fiber
Product Detail
Product Tags
The carbon fiber chopped strand are based on the polyacrylonitrile fiber as the raw material. Via carbonization, special surface treatment,  mechanical grinding, sieving and drying.
It is stable, electrical conductive, self-lubricating and reinforcing. Because of that It can composite with resin ,plastic, metal, rubber and so on. So It can reinforce the strength and wear resistance of the materials.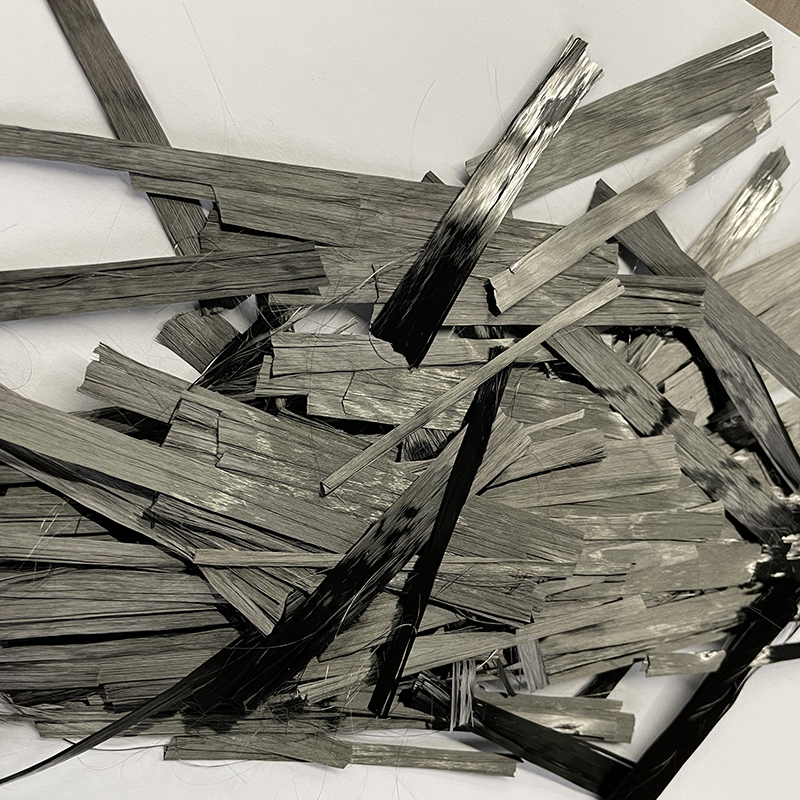 It can also be commonly compounded with general engineering thermoplastics (e.g., PC, Nylon, etc.) and high-temperature thermoplastic resins (e.g, PEEK, PEI, etc.), the resulting composite offers industry-leading high strength-to-weight and stiffness-to-weight ratios.
Now It is used in many fields. For examples: Electronic chips, conducting plate, conducting floor, Electronic machinery, anti-static industries, anti-static filter, defense industry, building insulation, chemical.
CFRP are composite materials. In this case the composite consists of two parts: a matrix and a reinforcement. In CFRP the reinforcement is carbon fiber, which provides its strength. The matrix is usually a polymer resin, such as epoxy, to bind the reinforcements together. Because CFRP consists of two distinct elements, the material properties depend on these two elements.
Reinforcement gives CFRP its strength and rigidity, measured by stress and elastic modulus respectively. Unlike isotropic materials like steel and aluminum, CFRP has directional strength properties. The properties of CFRP depend on the layouts of the carbon fiber and the proportion of the carbon fibers relative to the polymer. The two different equations governing the net elastic modulus of composite materials using the properties of the carbon fibers and the polymer matrix can also be applied to carbon fiber reinforced plastics
below is the our products in the application of carbon fiber reinforced plastics
Thermoplastic carbon fiber particles with PI/ PEEK
Advantage:High strength, high modulus, electrical conductivity
Usage: EMI shielding, Antistatic, reinforcement the engineering plastic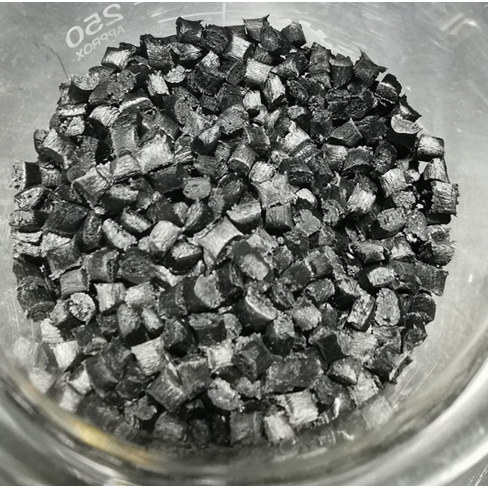 Material 
Carbon fiber & PI/PEEK
Carbon fiber Content (%)
97%
PI/PEEK content(%)
2.5-3
Water Content(%)
<0.3
Length 
6mm
Thermal stability of surface treatment
350℃ - 450 ℃
Recommended use
Nylon6/66, PPO, PPS, PEI,  PES,  PPA,  PEEK, PA10T, PEKK, PPS

,

PC, PI,  PEEK
---
Previous:
Trailer skirt-Thermoplastic
---
Write your message here and send it to us