Hydrogen Fuel Cell (Electrochemical cell)
Product Detail
Product Tags
A fuel cell is an electrochemical cell that converts the chemical energy of a fuel (often hydrogen) and an oxidizing agent (often oxygen) into electricity through a pair of redox reactions. Fuel cells are different from most batteries in requiring a continuous source of fuel and oxygen (usually from air) to sustain the chemical reaction, whereas in a battery the chemical energy usually comes from metals and their ions or oxides that are commonly already present in the battery, except in flow batteries. Fuel cells can produce electricity continuously for as long as fuel and oxygen are supplied.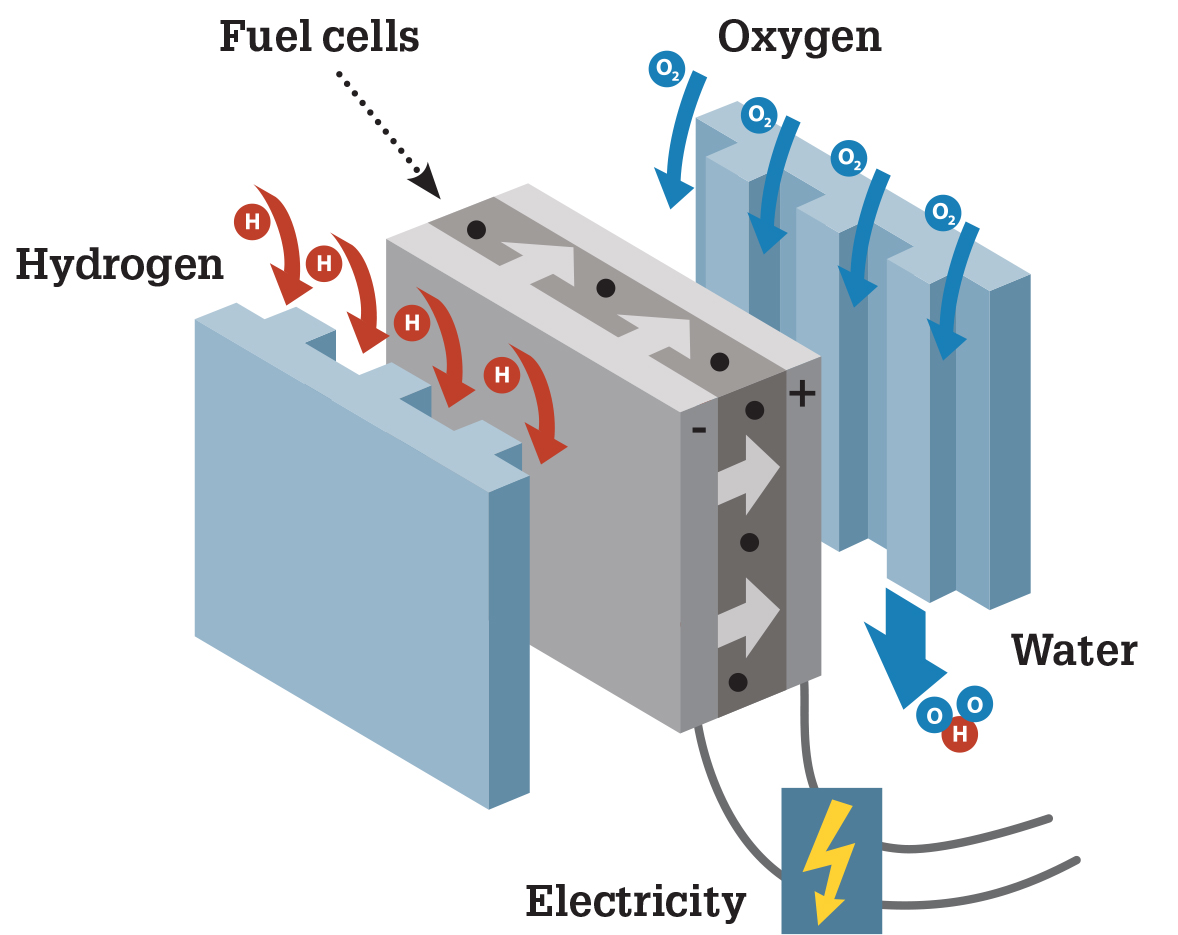 There are many types of fuel cells, but they all consist of an anode, a cathode, and an electrolyte that allows ions, often positively charged hydrogen ions (protons), to move between the two sides of the fuel cell. At the anode a catalyst causes the fuel to undergo oxidation reactions that generate ions (often positively charged hydrogen ions) and electrons. The ions move from the anode to the cathode through the electrolyte. At the same time, electrons flow from the anode to the cathode through an external circuit, producing direct current electricity. At the cathode, another catalyst causes ions, electrons, and oxygen to react, forming water and possibly other products. Fuel cells are classified by the type of electrolyte they use and by the difference in startup time ranging from 1 second for proton-exchange membrane fuel cells (PEM fuel cells, or PEMFC) to 10 minutes for solid oxide fuel cells (SOFC).
We provide product customization services, ranging from tens of watts of small portable stacks, hundreds of watts of electric vehicles or to drone stacks, several kilowatts of forklift stacks, and even dozens of kilowatts of heavy truck stacks. Customized service.
Rated output power
50w
500W
2000 W
5500W
20KW
65kW
100kW
130kw
rated current
4.2A
20A
40A
80A
90A
370A
590A
650A
Rated voltage
27V
24V
48V
72V(70-120V)DC
72v
75-180V
120-200V
95-300V
Working environment humidity
20%-98%
20%-98%
20%-98%
20-98%
20-98%
5-95%RH
5-95%RH
5-95%RH
Working environment temperature
-30-50℃
-30-50℃
-30-50℃
-30-50℃
-30-55℃
-30-55℃
-30-55℃
-30-55℃
weight of system
0.7kg
1.65kg
8kg
<

24kg

27kg
40kg
60kg
72kg
Size of system
146*95*110mm
230*125*220mm
260*145*25mm
660*270*330mm
400*340*140mm
345*160*495mm
780*480*280mm
425*160*645mm
Hydrogen production system, hydrogen storage system, hydrogen supply system, electric stack, a whole set of systems provide one-stop service.
---
Previous:
Hydrogen bicycle (Fuel Cell Bikes)
---
Write your message here and send it to us